The Thirunangai Promise: Gender as a contingent outcome of migration and economic exchange
Keywords:
transgender, migration, linguistic anthropology, kinship, South Asia
Abstract
In this paper, I track how social actors in the city of Chennai in the Indian state of Tamil Nadu contested the boundaries of thirunangai identity, the preferred Tamil term for transgender women. Using a framework derived from linguistic and economic anthropology, I show how gendered personhood is a contingent outcome of the value and meaning given to migrations and economic exchanges, where migration makes new gendered subjectivities possible while curtailing others. I offer a queer analysis of migration, highlighting how social womanhood is a contingent achievement and a contested status, split along axes of class, caste, religion, language, cis- or transgenderhood, and so forth. Not all persons socially categorised as women marry, migrate or labour in the same way, and gender is never a singular or isolated axis of differentiation.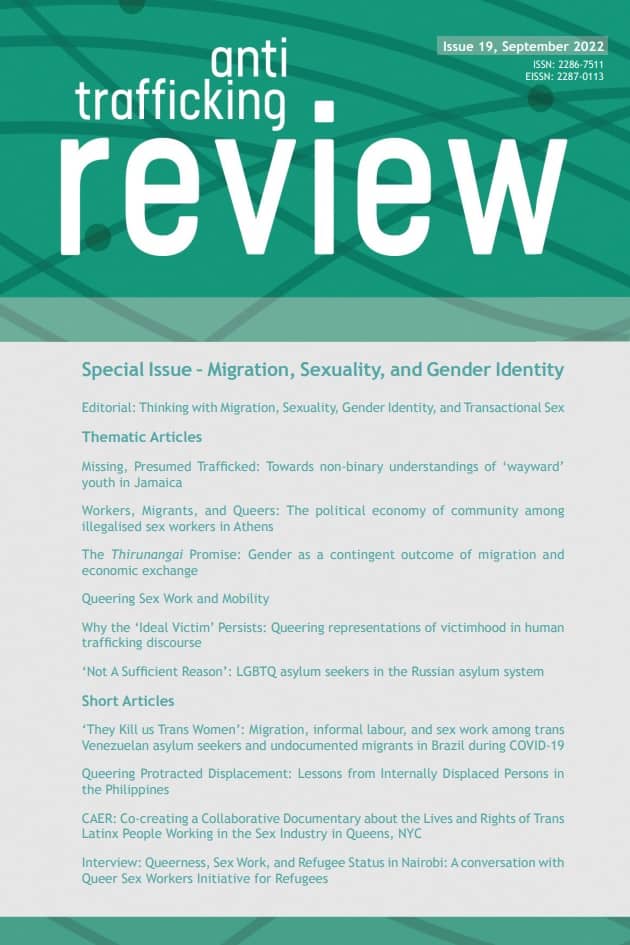 How to Cite
Nataraj, S. (2022). The Thirunangai Promise: Gender as a contingent outcome of migration and economic exchange. Anti-Trafficking Review, (19), 47–65. https://doi.org/10.14197/atr.201222194
License
This work is licensed under a Creative Commons Attribution 4.0 International License.
The Anti-Trafficking Review has a policy of licensing under the Creative Commons Attribution License (CC-BY). Under the CC-BY license, the public is free to share, adapt, and make commercial use of the work. To protect our work and that of our authors, however, users must always give proper attribution to the author(s) and the Anti-Trafficking Review (i.e. with a complete bibliographic citation and link to the Anti-Trafficking Review website and/or DOI).
The Anti-Trafficking Review promotes the sharing of information, and we therefore encourage the reproduction and onward dissemination of articles published with us.