Surveillance and Entanglement: How mandatory sex offender registration impacts criminalised survivors of human trafficking
Abstract
This short article describes how some victims of human trafficking in the sex industry in the United States are prosecuted alongside traffickers and put on sex offender registries. The result is both a criminal record and an indefinite digital mark that limits their ability to find a job, settle in a new community, and see their children. The article concludes with a call for a careful, critical look at the system of sex offender registries and, more broadly, policing and prosecution strategies, including in cases of human trafficking, in the United States.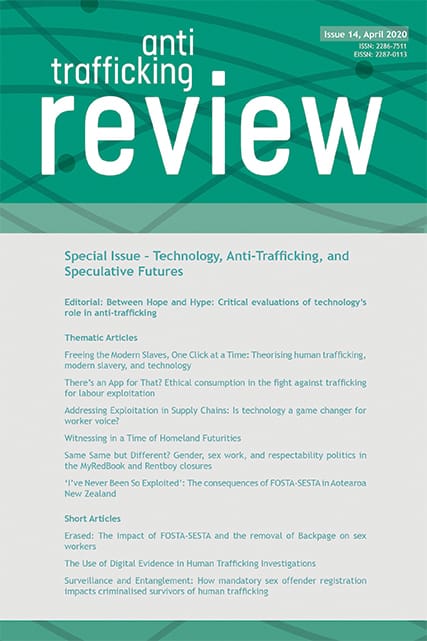 How to Cite
Mogulescu, K., & Goodmark, L. (2020). Surveillance and Entanglement: How mandatory sex offender registration impacts criminalised survivors of human trafficking. Anti-Trafficking Review, (14), 125–130. https://doi.org/10.14197/atr.2012201410
License
The Anti-Trafficking Review has a policy of licensing under the Creative Commons Attribution License (CC-BY). Under the CC-BY license, the public is free to share, adapt, and make commercial use of the work. To protect our work and that of our authors, however, users must always give proper attribution to the author(s) and the Anti-Trafficking Review (i.e. with a complete bibliographic citation and link to the Anti-Trafficking Review website and/or DOI).
The Anti-Trafficking Review promotes the sharing of information, and we therefore encourage the reproduction and onward dissemination of articles published with us.