The Use of Digital Evidence in Human Trafficking Investigations
Abstract
This short article two NGO workers' experience providing legal and social support to twenty Venezuelan women who were trafficked through the use of social media and chat apps. It shows how the digital evidence from online interactions between the women and their traffickers was used in the investigation and successful prosecution of the case. The article concludes, however, that this does not apply to all women that the NGO supports, and thus digital evidence, and technology, have only limited application in anti-trafficking efforts.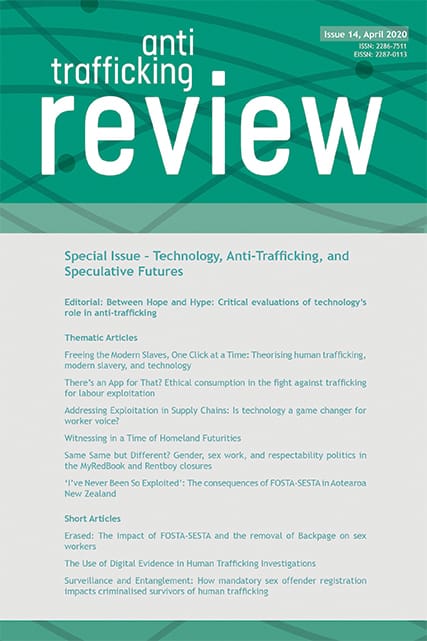 How to Cite
Chen, I., & Tortosa, C. (2020). The Use of Digital Evidence in Human Trafficking Investigations. Anti-Trafficking Review, (14), 122–124. https://doi.org/10.14197/atr.201220149
License
The Anti-Trafficking Review has a policy of licensing under the Creative Commons Attribution License (CC-BY). Under the CC-BY license, the public is free to share, adapt, and make commercial use of the work. To protect our work and that of our authors, however, users must always give proper attribution to the author(s) and the Anti-Trafficking Review (i.e. with a complete bibliographic citation and link to the Anti-Trafficking Review website and/or DOI).
The Anti-Trafficking Review promotes the sharing of information, and we therefore encourage the reproduction and onward dissemination of articles published with us.