'I've Never Been So Exploited': The consequences of FOSTA-SESTA in Aotearoa New Zealand
Keywords:
advertising, decriminalisation, trafficking, technology, New Zealand, United States, FOSTA-SESTA
Abstract
Aotearoa New Zealand's 2003 decriminalisation of sex work has reduced the exploitation of sex workers, as well as the health and safety risks in the industry. Nevertheless, United States-driven criminalising policies still influence sex workers abroad. The Fight Online Sex Trafficking and Stop Enabling Sex Traffickers Acts (FOSTA-SESTA) effectively criminalised websites where sex workers advertise. Shortly before that, the FBI shut down the internationally used Backpage.com, leading many sex workers in both countries to return to the streets or brothels. These events contributed to the rising dominance of one advertising website. Drawing on twenty semi-structured interviews and four observation cases with sex workers in Auckland, in this paper, I explore the international consequences of FOSTA-SESTA and the closure of Backpage on my participants. I show that this punitive approach to segments of the online sex industry has not only placed sex workers in greater financial insecurity, but has reduced their ability to control their working conditions. These outcomes, I conclude, have undermined the positive impacts of decriminalisation, while exacerbating socioeconomic, racial, gender, and legal inequalities in Auckland's sex industry.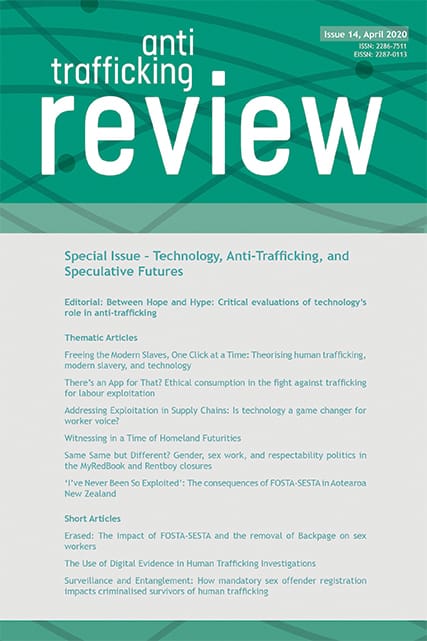 How to Cite
Tichenor, E. (2020). 'I've Never Been So Exploited': The consequences of FOSTA-SESTA in Aotearoa New Zealand. Anti-Trafficking Review, (14), 99–115. https://doi.org/10.14197/atr.201220147
License
The Anti-Trafficking Review has a policy of licensing under the Creative Commons Attribution License (CC-BY). Under the CC-BY license, the public is free to share, adapt, and make commercial use of the work. To protect our work and that of our authors, however, users must always give proper attribution to the author(s) and the Anti-Trafficking Review (i.e. with a complete bibliographic citation and link to the Anti-Trafficking Review website and/or DOI).
The Anti-Trafficking Review promotes the sharing of information, and we therefore encourage the reproduction and onward dissemination of articles published with us.