Witnessing in a Time of Homeland Futurities
Keywords:
homeland futurity, border and immigration, human trafficking, migrant labour, technology
Abstract
Current US rhetorical strategies of imagining a future of the homeland have led to the creation and utilisation of new technologies to contain and manage the border. These responses to the US border and immigration impact anti-trafficking efforts, sustaining a 'homeland futurity'. Homeland futurity draws on and extends discourses of emergency that solidify borders as dangerous and risky. This article traces how homeland futurities emerged in US anti-trafficking efforts. Drawing upon interviews and focus group discussions with service providers and survivors of violence in San Francisco, the article demonstrates how migrant labourers are impacted by a discourse of threat and containment of the border. However, migrant labourers and their allies are innovating to secure a life that mitigates risk through migrant labourers' use of technology. This article illustrates through the example of Contratados.org how technology may facilitate opportunities of future visioning by migrant labourers beyond a homeland futurity, to enact practices that bring to the centre migrants and their experiences through social networking and information sharing on job prospects.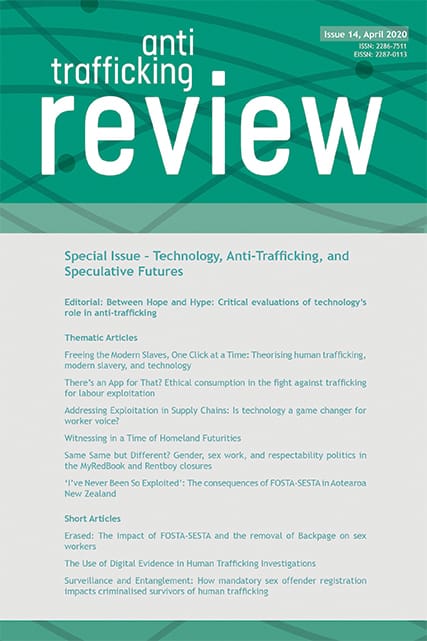 How to Cite
Fukushima, A. (2020). Witnessing in a Time of Homeland Futurities. Anti-Trafficking Review, (14), 67–81. https://doi.org/10.14197/atr.201220145
License
The Anti-Trafficking Review has a policy of licensing under the Creative Commons Attribution License (CC-BY). Under the CC-BY license, the public is free to share, adapt, and make commercial use of the work. To protect our work and that of our authors, however, users must always give proper attribution to the author(s) and the Anti-Trafficking Review (i.e. with a complete bibliographic citation and link to the Anti-Trafficking Review website and/or DOI).
The Anti-Trafficking Review promotes the sharing of information, and we therefore encourage the reproduction and onward dissemination of articles published with us.