Addressing Exploitation in Supply Chains: Is technology a game changer for worker voice?
Keywords:
supply chain, labour exploitation, modern slavery, technology, worker voice, migrant worker
Abstract
Multinational businesses are facing mounting pressure to identify and address risks of exploitation, trafficking and modern slavery in their supply chains. Digital worker reporting tools present unprecedented opportunities for lead firms to reach out directly to hard-to-reach workers for feedback on their working conditions via their mobile phone. These new technologies promise an efficient and cost-effective way to cut through the complexity of global production, gathering unmediated data on working conditions directly from workers at scale. As the market for these tools grows, this paper contextualises their emergence within the broader political economy of supply chain governance. It presents three sets of concerns about their use that must be addressed by businesses, investors, donors and governments that develop or utilise these tools. First, the quality of data gathered by these tools may be inadequate to reliably inform decision-making. Second, global brands may gather large quantities of worker data to identify legal, reputational and financial risks without addressing structural causes of exploitation or delivering outcomes for workers. Third, large scale collection of data from workers creates new risks for workers' wellbeing and safety.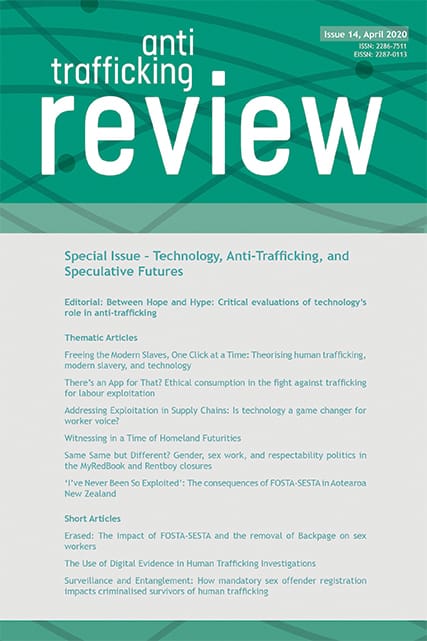 How to Cite
Berg, L., Farbenblum, B., & Kintominas, A. (2020). Addressing Exploitation in Supply Chains: Is technology a game changer for worker voice?. Anti-Trafficking Review, (14), 47–66. https://doi.org/10.14197/atr.201220144
License
The Anti-Trafficking Review has a policy of licensing under the Creative Commons Attribution License (CC-BY). Under the CC-BY license, the public is free to share, adapt, and make commercial use of the work. To protect our work and that of our authors, however, users must always give proper attribution to the author(s) and the Anti-Trafficking Review (i.e. with a complete bibliographic citation and link to the Anti-Trafficking Review website and/or DOI).
The Anti-Trafficking Review promotes the sharing of information, and we therefore encourage the reproduction and onward dissemination of articles published with us.