Freeing the Modern Slaves, One Click at a Time: Theorising human trafficking, modern slavery, and technology
Keywords:
technology, e-trafficking, impact, evidence-based knowledge
Abstract
This paper analyses relations between human trafficking, modern slavery, and information communication technology. It looks at the history of the technology-trafficking nexus and flags some key advances in the counter-trafficking discourse in the last two decades. It provides an overview of how technology has been framed as both a part of the problem and part of the solution in the trafficking/slavery context and emphasises the impact of such developments on a range of actors, in particular, potential victims, NGOs, and the nation state. We suggest that the technology-slavery/trafficking connections, while often elusive, act as potent narrative and policy setters that can advance existing challenges and create new points of tension in the counter-trafficking context. We critically analyse these points of tension and destabilise some of their underpinning assumptions. In the conclusion, we highlight the need for rigorous empirical evidence, arguing that a more robust scholarly engagement with the role of technology in enabling and disrupting exploitation is essential. We also point to the importance of ensuring that technology is not a distraction from addressing the root causes of exploitation and abuse.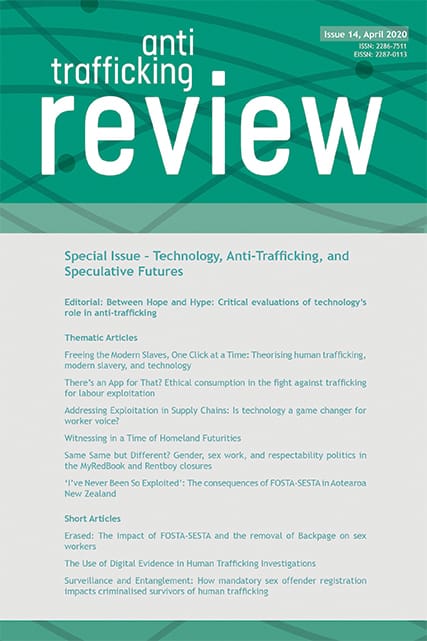 How to Cite
Milivojevic, S., Moore, H., & Segrave, M. (2020). Freeing the Modern Slaves, One Click at a Time: Theorising human trafficking, modern slavery, and technology. Anti-Trafficking Review, (14), 16–32. https://doi.org/10.14197/atr.201220142
License
The Anti-Trafficking Review has a policy of licensing under the Creative Commons Attribution License (CC-BY). Under the CC-BY license, the public is free to share, adapt, and make commercial use of the work. To protect our work and that of our authors, however, users must always give proper attribution to the author(s) and the Anti-Trafficking Review (i.e. with a complete bibliographic citation and link to the Anti-Trafficking Review website and/or DOI).
The Anti-Trafficking Review promotes the sharing of information, and we therefore encourage the reproduction and onward dissemination of articles published with us.