Editorial: Between Hope and Hype: Critical evaluations of technology's role in anti-trafficking
Abstract
Over the past decade, scholars, activists, and policymakers have repeatedly called for an examination of the role of technology as a contributing force to human trafficking and exploitation. Attention has focused on a range of issues from adult services websites and the use of social media to recruit victims and facilitate trafficking to the utilisation of data analytics software to understand trafficking and identify 'hotspots of risk'. This article introduces the Special Issue of Anti-Trafficking Review devoted to the role of technology in (anti-)trafficking. It outlines the main assumptions and critiques some of the proposed 'solutions' in the field and presents briefly the articles included in the issue. It concludes that the factors that enable and sustain human trafficking are varied and complex and require political will – not tech solutionist fixes.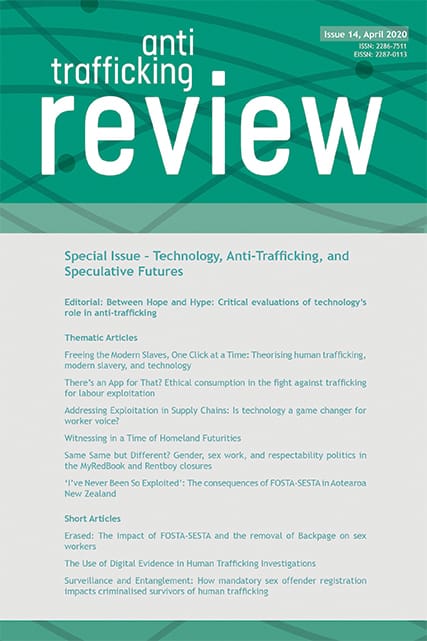 How to Cite
Musto, J., Thakor, M., & Gerasimov, B. (2020). Editorial: Between Hope and Hype: Critical evaluations of technology's role in anti-trafficking. Anti-Trafficking Review, (14), 1–14. https://doi.org/10.14197/atr.201220141
License
This work is licensed under a Creative Commons Attribution 4.0 International License.
The Anti-Trafficking Review has a policy of licensing under the Creative Commons Attribution License (CC-BY). Under the CC-BY license, the public is free to share, adapt, and make commercial use of the work. To protect our work and that of our authors, however, users must always give proper attribution to the author(s) and the Anti-Trafficking Review (i.e. with a complete bibliographic citation and link to the Anti-Trafficking Review website and/or DOI).
The Anti-Trafficking Review promotes the sharing of information, and we therefore encourage the reproduction and onward dissemination of articles published with us.