Unacceptable Forms of Work in the Thai Sex and Entertainment Industry
Keywords:
sex work, working conditions, unacceptable forms of work, Thailand
Abstract
This article examines the working conditions in sex and entertainment work in Thailand using the Unacceptable Forms of Work (UFW) Framework. Criminalisation of sex work and insufficient oversight of labour conditions increase the vulnerability of sex workers to police harassment; prevent sex workers from accessing legal and social protections; and contribute to the decent work deficit in the sector. Protecting the human rights of sex workers and ensuring decent work in the Thai sex and entertainment industry necessarily involves the decriminalisation of sex work; amending labour and social protection laws, policies, and systems to be inclusive of sex workers; and ensuring implementation. Throughout the process of policy change, the involvement of sex workers, their employers, and civil society organisations is crucial.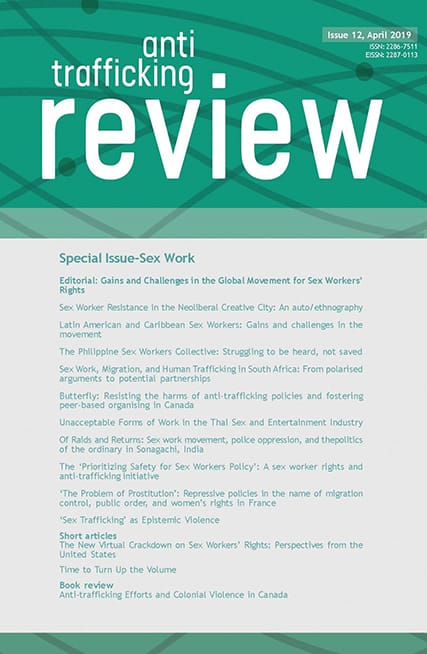 How to Cite
Villar, L. B. (2019). Unacceptable Forms of Work in the Thai Sex and Entertainment Industry. Anti-Trafficking Review, (12), 108–126. https://doi.org/10.14197/atr.201219127
License
The Anti-Trafficking Review has a policy of licensing under the Creative Commons Attribution License (CC-BY). Under the CC-BY license, the public is free to share, adapt, and make commercial use of the work. To protect our work and that of our authors, however, users must always give proper attribution to the author(s) and the Anti-Trafficking Review (i.e. with a complete bibliographic citation and link to the Anti-Trafficking Review website and/or DOI).
The Anti-Trafficking Review promotes the sharing of information, and we therefore encourage the reproduction and onward dissemination of articles published with us.