The Philippine Sex Workers Collective: Struggling to be heard, not saved
Keywords:
sex work, anti-trafficking, Philippines, war on drugs
Abstract
The Philippine Sex Workers Collective is an organisation of current and former sex workers who reject the criminalisation of sex work and the dominant portrayal of sex workers as victims. Based on my interviews with leaders of the Collective and fifty other sex workers in Metro Manila, I argue in this paper that a range of contextual constraints limits the ability of Filipino sex workers to effectively organise and lobby for their rights. For example, the Collective cannot legally register because of the criminalisation of sex work, and this impacts their ability to access funding and recruit members. The structural configuration of the Philippines' Inter-Agency Council Against Trafficking incentivises civil society organisations to adhere to a unified position on sex work as violence against women. The stigma against sex work in a predominantly Catholic country is another constraint. Recently, President Rodrigo Duterte's war on drugs has been weaponised by some members of the police to harass sex workers. Finally, I reflect on strategies the Collective could adopt to navigate the limited space they have for representation, such as crucial partnerships, outreach work, and legal remedies.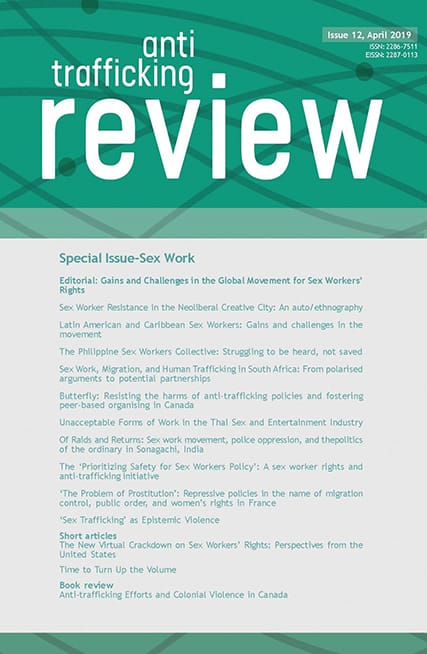 How to Cite
Parmanand, S. (2019). The Philippine Sex Workers Collective: Struggling to be heard, not saved. Anti-Trafficking Review, (12), 57–73. https://doi.org/10.14197/atr.201219124
License
The Anti-Trafficking Review has a policy of licensing under the Creative Commons Attribution License (CC-BY). Under the CC-BY license, the public is free to share, adapt, and make commercial use of the work. To protect our work and that of our authors, however, users must always give proper attribution to the author(s) and the Anti-Trafficking Review (i.e. with a complete bibliographic citation and link to the Anti-Trafficking Review website and/or DOI).
The Anti-Trafficking Review promotes the sharing of information, and we therefore encourage the reproduction and onward dissemination of articles published with us.