The Prosecution of State-Level Human Trafficking Cases in the United States
Keywords:
prosecution, human trafficking, law reform, uncertainty avoidance
Abstract
In an effort to combat human trafficking, the United States federal government and all fifty states passed new laws that criminalise human trafficking and support the identification and prosecution of human trafficking perpetrators. Despite the passage of these laws, only a small number of human trafficking cases have been prosecuted in the last fifteen years. Guided by the notion that prosecutors seek to avoid uncertainty when making decisions to pursue criminal prosecution, we explore how human trafficking crimes are indicted under these newly defined state laws. Using a sample of cases from twelve US counties and interviews with police, prosecutors and court personnel, we examine the factors that influence the decision to prosecute crimes investigated as human trafficking in state court. This research informs our understanding of why so few human trafficking cases are prosecuted and why human trafficking suspects are rarely convicted of trafficking offenses.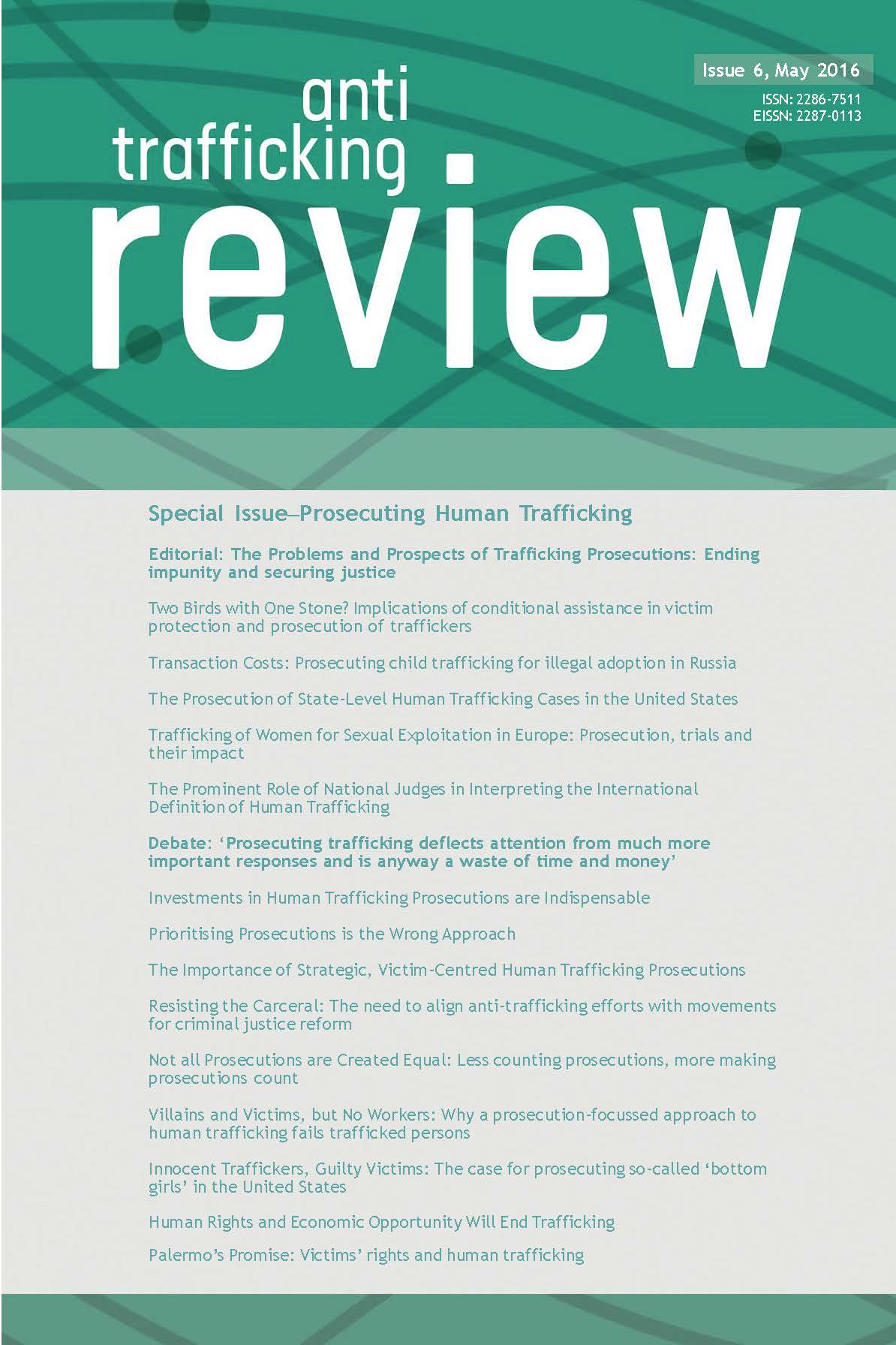 How to Cite
Farrell, A., DeLateur, M. J., Owens, C., & Fahy, S. (2016). The Prosecution of State-Level Human Trafficking Cases in the United States. Anti-Trafficking Review, (6), 48–70. https://doi.org/10.14197/atr.20121664
License
This work is licensed under a Creative Commons Attribution 4.0 International License.
The Anti-Trafficking Review has a policy of licensing under the Creative Commons Attribution License (CC-BY). Under the CC-BY license, the public is free to share, adapt, and make commercial use of the work. To protect our work and that of our authors, however, users must always give proper attribution to the author(s) and the Anti-Trafficking Review (i.e. with a complete bibliographic citation and link to the Anti-Trafficking Review website and/or DOI).
The Anti-Trafficking Review promotes the sharing of information, and we therefore encourage the reproduction and onward dissemination of articles published with us.