Base Motives: The case for an increased focus on wage theft against migrant workers
Keywords:
wage theft, migrant worker, forced labour, human trafficking, modern slavery
Abstract
Since the adoption of the UN Trafficking Protocol, most of the efforts dedicated to eliminating exploitation of migrant workers have focused on human trafficking. Yet, there is limited evidence to show that this approach has been effective at reducing the scale or severity of abuses they experience. This article presents the case for increasing attention to a range of labour rights abuses falling under the category of wage theft. It considers the opportunities to shift the strategy for responding to exploitation, addressing the underlying pecuniary issues as a chief priority rather than as a matter of secondary concern. The analysis concludes that expanding engagement with the more 'mundane' vulnerabilities to abuse is essential to developing a pragmatic approach that enables migrants themselves to identify and denounce abuses. Interventions to prevent and remediate wage theft would contribute to better working conditions for the vast missing middle who experience more commonplace forms of abuse and help to diminish the enabling environment for severe exploitation to occur. Ensuring a more equitable distribution of wages would also redirect attention to a core issue at stake in the era of globalisation—the expansion of economic and social justice for migrant workers.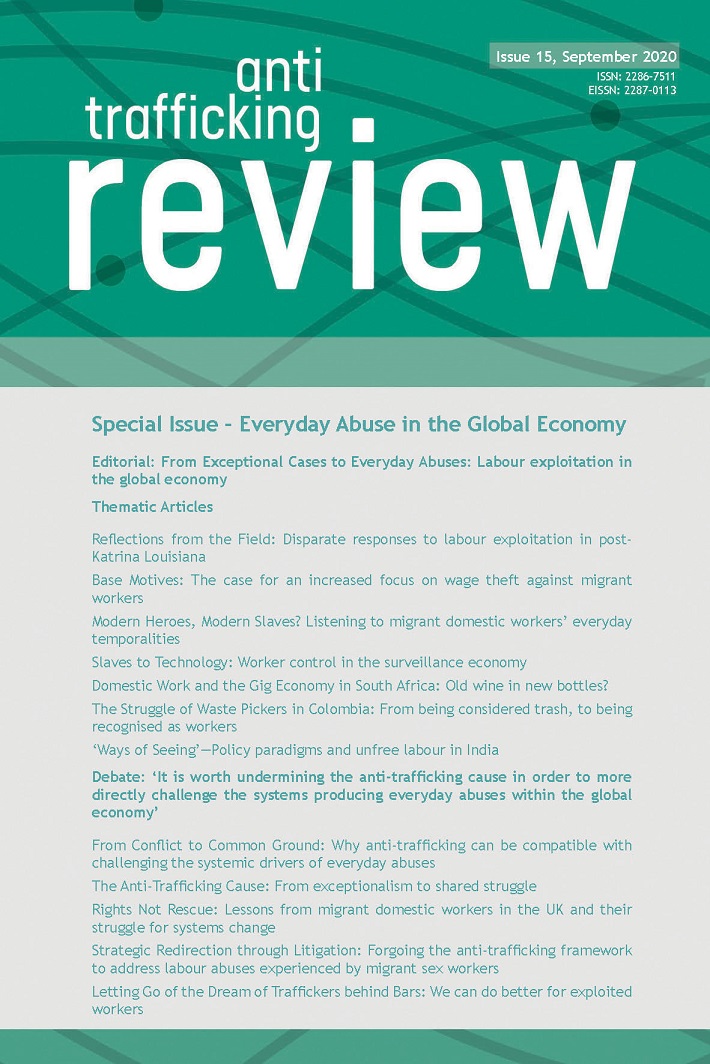 How to Cite
Harkins, B. (2020). Base Motives: The case for an increased focus on wage theft against migrant workers. Anti-Trafficking Review, (15), 42–62. https://doi.org/10.14197/atr.201220153
License
This work is licensed under a Creative Commons Attribution 4.0 International License.
The Anti-Trafficking Review has a policy of licensing under the Creative Commons Attribution License (CC-BY). Under the CC-BY license, the public is free to share, adapt, and make commercial use of the work. To protect our work and that of our authors, however, users must always give proper attribution to the author(s) and the Anti-Trafficking Review (i.e. with a complete bibliographic citation and link to the Anti-Trafficking Review website and/or DOI).
The Anti-Trafficking Review promotes the sharing of information, and we therefore encourage the reproduction and onward dissemination of articles published with us.