Accountability and the Use of Raids to Fight Trafficking
Keywords:
trafficking, mobility, migration, law enforcement, raids, US
Abstract
Accountability in anti-trafficking efforts is a crucial but often overlooked aspect of deciding whether such efforts are truly rooted in a human rights framework. In a rush to help, and inspired by sensationalised views of what human trafficking is, many campaigns actually harm the very people they are supposed to assist. Law enforcement raids are one such effort, as they do not take into account the very different power dynamics between the actor engaging in the raid, and the person who is subject to the raid. Data from the United States suggests that raids conducted by local law enforcement agencies are an ineffective means of locating and identifying trafficked persons. Research also reveals that raids are all too frequently accompanied by violations of the human rights of trafficked persons and sex workers alike, and can therefore be counterproductive to the underlying goals of anti-trafficking initiatives. Findings suggest that a rights-based and "survivor-centred" approach to trafficking in persons requires the development and promotion of alternative methods of identifying and protecting the rights of trafficked persons which prioritise the needs, agency, and self-determination of trafficking survivors. They also indicate that preventative approaches, which address the circumstances that facilitate trafficking in persons, should be pursued over law enforcement based responses.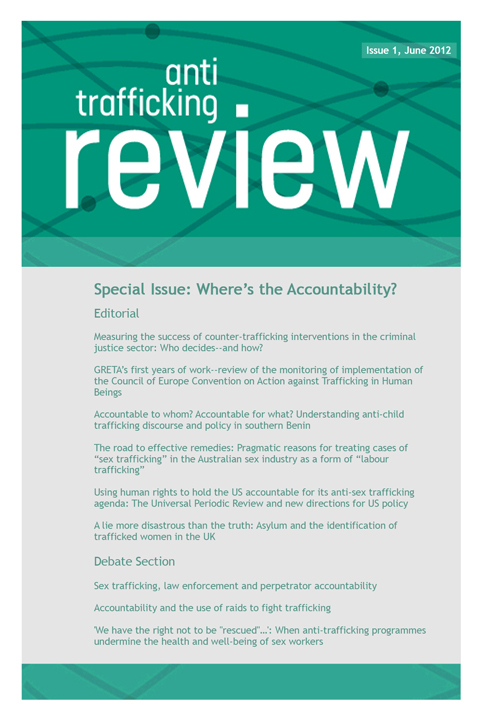 How to Cite
Ditmore, M., & Thukral, J. (2012). Accountability and the Use of Raids to Fight Trafficking. Anti-Trafficking Review, (1). https://doi.org/10.14197/atr.201218
License
This work is licensed under a Creative Commons Attribution 4.0 International License.
The Anti-Trafficking Review has a policy of licensing under the Creative Commons Attribution License (CC-BY). Under the CC-BY license, the public is free to share, adapt, and make commercial use of the work. To protect our work and that of our authors, however, users must always give proper attribution to the author(s) and the Anti-Trafficking Review (i.e. with a complete bibliographic citation and link to the Anti-Trafficking Review website and/or DOI).
The Anti-Trafficking Review promotes the sharing of information, and we therefore encourage the reproduction and onward dissemination of articles published with us.