Measuring the Success of Counter-Trafficking Interventions in the Criminal Justice Sector: Who decides—and how?
Keywords:
trafficking, human trafficking, criminal justice, monitoring, evaluation, impact assessment,
Abstract
Global concern about human trafficking has prompted substantial investment in counter-trafficking interventions. That investment, and the human rights imperatives that underpin counter-trafficking work, demand that interventions demonstrate accountability, results and beneficial impact. How this can happen in practice is complicated and contested. This article, which considers success measurements with respect to criminal justice interventions, seeks to cut through the complexities presented by multiple theories and elaborate methodologies by focusing on one key issue: who decides success, and how? A review of evaluation reports and interviews with practitioners confirm that determinations of success (or failure) will vary according to: (i) who one consults and their role in the intervention; (ii) the criteria against which success is measured; and (iii) the assumptions that are built into that criteria. Each aspect is considered with reference to examples and insights drawn from recent practice. A major finding of the article is that the lack of an overarching vision of what "success" might look like allows mediocre or even harmful interventions to flourish and good work to go unrecognised and unrewarded.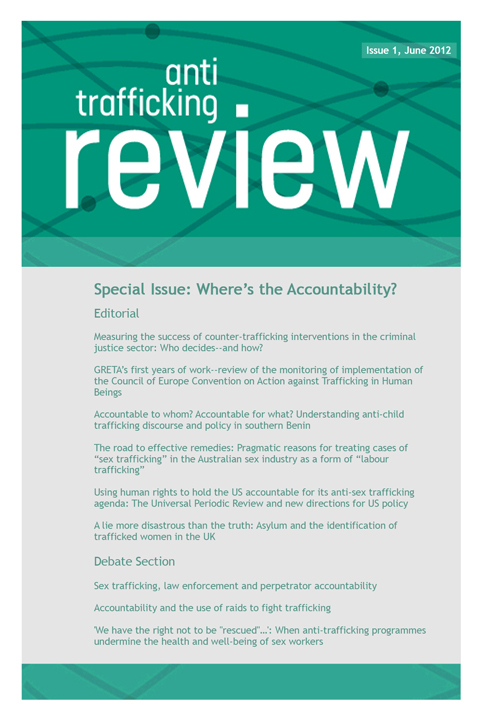 How to Cite
Gallagher, A., & Surtees, R. (2012). Measuring the Success of Counter-Trafficking Interventions in the Criminal Justice Sector: Who decides—and how?. Anti-Trafficking Review, (1). https://doi.org/10.14197/atr.201211
License
This work is licensed under a Creative Commons Attribution 4.0 International License.
The Anti-Trafficking Review has a policy of licensing under the Creative Commons Attribution License (CC-BY). Under the CC-BY license, the public is free to share, adapt, and make commercial use of the work. To protect our work and that of our authors, however, users must always give proper attribution to the author(s) and the Anti-Trafficking Review (i.e. with a complete bibliographic citation and link to the Anti-Trafficking Review website and/or DOI).
The Anti-Trafficking Review promotes the sharing of information, and we therefore encourage the reproduction and onward dissemination of articles published with us.