Debate: The Challenges and Perils of Reframing Trafficking as 'Modern-Day Slavery'
Abstract
In the last five years, we have seen a rebranding of global anti-trafficking efforts as 'modern-day slavery' abolitionism. The United States of America (US) Department of State and powerful philanthropists are key proponents of the slavery makeover, prompting other governments, international organisations, and non-governmental organisations alike to adopt the 'modern-day slavery' frame. The slavery frame has helped ignite outrage and galvanise political support for modern anti-slavery campaigns. It has also helped expand the anti-trafficking spotlight beyond the sex sector to expose the extreme exploitation that men, women, and children suffer in the non-sexual labour sectors of our global economy. These benefits come at a cost, however, both with respect to legal doctrine and practice, and, perhaps more significantly, to how we understand and respond to the problem of extreme exploitation for profit.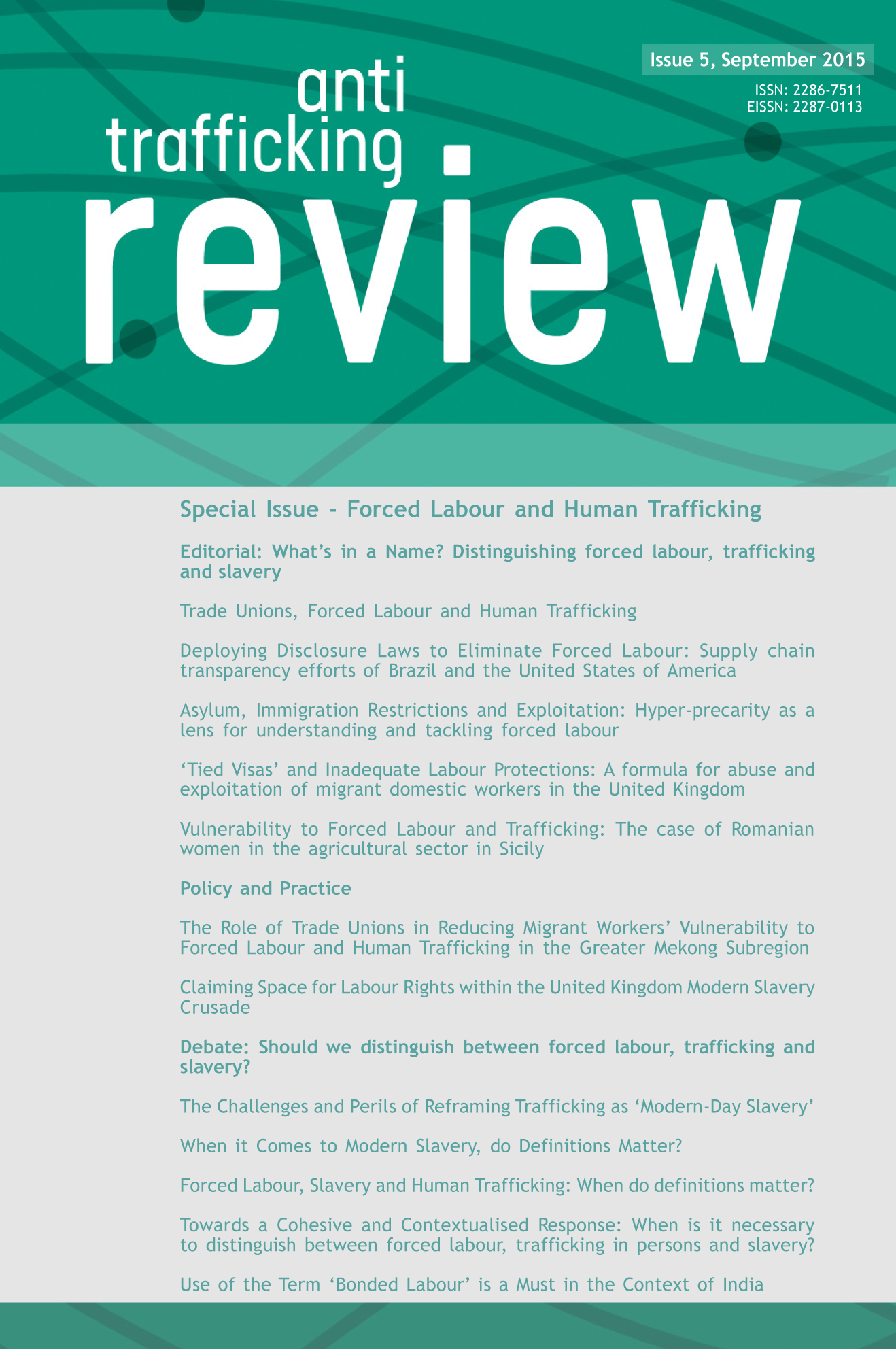 How to Cite
Chuang, J. (2015). Debate: The Challenges and Perils of Reframing Trafficking as 'Modern-Day Slavery'. Anti-Trafficking Review, (5). https://doi.org/10.14197/atr.20121559
License
The Anti-Trafficking Review has a policy of licensing under the Creative Commons Attribution License (CC-BY). Under the CC-BY license, the public is free to share, adapt, and make commercial use of the work. To protect our work and that of our authors, however, users must always give proper attribution to the author(s) and the Anti-Trafficking Review (i.e. with a complete bibliographic citation and link to the Anti-Trafficking Review website and/or DOI).
The Anti-Trafficking Review promotes the sharing of information, and we therefore encourage the reproduction and onward dissemination of articles published with us.